Home » Craft Fairs & Events
A knucklebuster to call my own
June 19, 2008 :: 11:36 pm ::
Craft Fairs & Events
::
no comments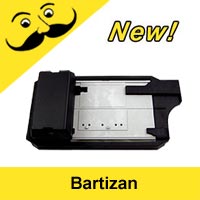 Whee! My Bartizan 4850 Tabletop Imprinter and 100 imprinter slips arrived today, thanks to eBay seller Mr. Imprinter.
I had a really hard time deciding which imprinter (aka knucklebuster) to buy but in the end decided to go with the low-end version since the contraption is only supposed to be a backup to the merchant account I intend to sign up for with ProPay.
All this of course is in prep for the upcoming Renegade Craft Fair SF, my first ever craft fair. FIRST EVER CRAFT FAIR! Yeeeeeaaaa baby.
My thanks go to the experienced Etsians who've so generously shared their knowledge about how to accept credit cards at a craft fair in the Etsy seller forums.
All told, the Bartizan 4850, 100 slips AND personalized imprinter plate – set me back $21.49 including shipping. Not bad right? Hopefully it doesn't bust my knuckles as the nickname implies. I've yet to try it out. Ex-ci-ting!
image from Mr. Imprinter

Similar Posts: