Home » Craft Fairs & Events
My craft fair production schedule
July 29, 2008 :: 9:31 am ::
Craft Fairs & Events
::
4 comments
This here's a screenshot of the craft fair planner I made for myself, updated slightly to look at how far ahead or behind (mostly behind) I was on a week-by-week basis as compared to my original schedule for the Renegade Craft Fair earlier this month: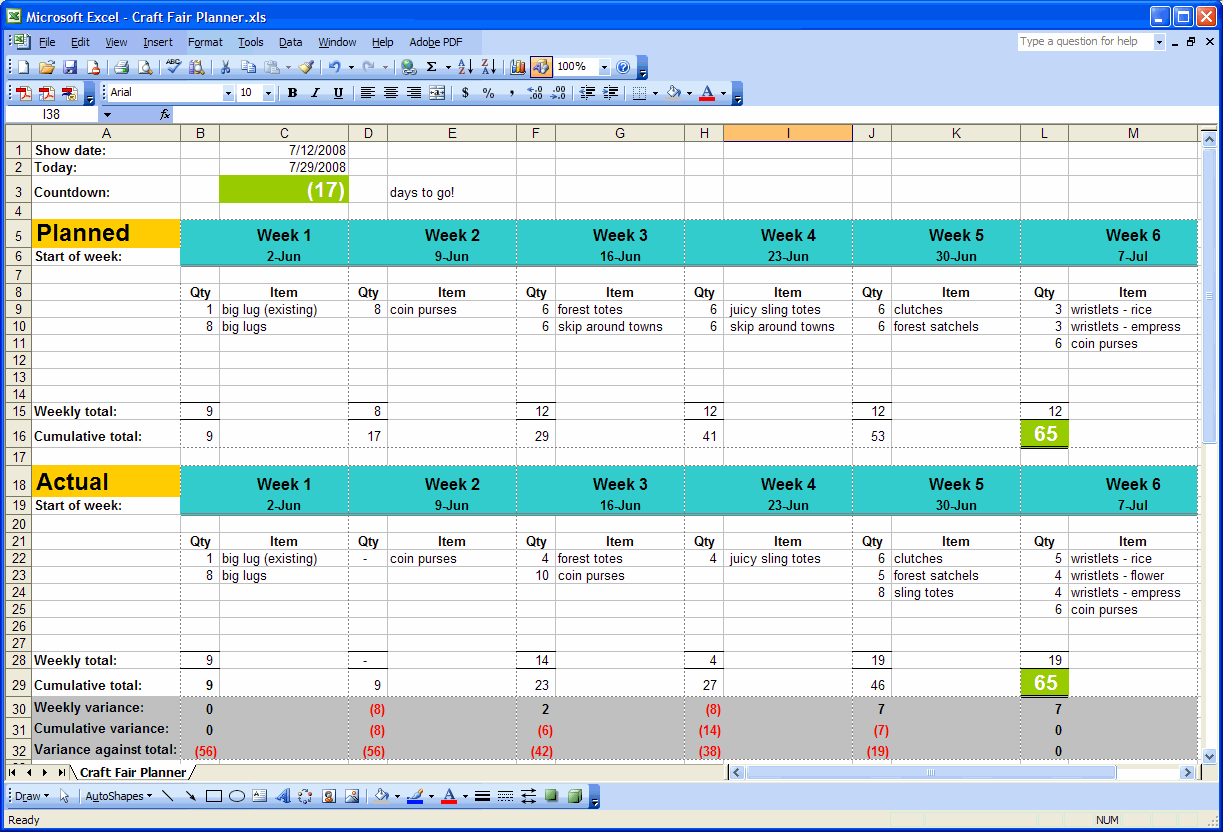 The schedule reveals much behind what went down here at home, behind the scenes. Basically I started production 6 weeks before the show date. I had planned to calmly and steadily produce between 8~12 items per week. That's laid out, good intentions and all, in the "Planned" top section of the spreadsheet.
What really happened was a different story. See "Actual" section, bottom half. Week 1, I did a great job. 9 items planned, 9 items produced. Zero variance! Week 2 I floundered about a bit. 8 coin purses? Didn't happen. Not that I wasn't thinking about it or working towards the overall goal in some shape or form; in fact, I spent a lot of time sketching and prototyping a handful of new items to see if maybe I ought to work those into the mix instead of the items I'd originally planned. That's kind of where I got into trouble – didn't stick to the plan. The plan! Ultimately I did end up working in 2 of the 4 new designs I made, so the time investment wasn't a total loss. But, it may have been if I didn't make that major push during Weeks 5 and 6.
Because, by the end of Week 4 I was in a panic. OMG, I only have 27 items for a 10×10 booth?! That lit a fire under my butt and poor Jimmy didn't get a single home-cooked meal for the next two weeks. Well, maybe one. Or even two. But otherwise it was pretty much take-out, frozen or canned foods, or one of his own concoctions.
The things that helped me most about my schedule were:
Countdown: This cell contains a formula that calculates the show date minus today's date, which automatically updates to be the date that you are looking at the spreadsheet. I specifically recall starting to panic when the Countdown reached 14 days, because by that point as you can see I was already 14 items behind schedule and a whopping 38 items behind my targeted total! =/
Cumulative Variance and Variance Against Total: How far behind am I based on my week-by-week schedule? And how far behind am I against my target 65 items?
Planned section vs. Actual section: My background is web project management, so it was a no-brainer for me that I'd need to have something that laid out my specific goals for "the project", alongside something that measured my progress against those goals. Otherwise, how would I know how freaked out I ought to be at any point in time? It's all about measuring panic, after all.
I didn't track my other to-do's on this schedule, just items to be made. But, there was a long list of other stuff that had to be done especially since this was my first gig. Those things I worked in along the way (like buying an imprinter, picking up some shopping bags, signing up for a credit card processor) and of course we had a few long nights just before the show to do some things that I didn't get to earlier since I'd fallen behind schedule (signage and tags, primarily).
And, here's the XLS file in case anyone should find it useful!
>> Download Craft Fair Planner.xls

Similar Posts: