Home » DIY and Craft Tutorials, Product Updates
Pillow talk
March 31, 2009 :: 9:09 am ::
DIY and Craft Tutorials
,
Product Updates
::
9 comments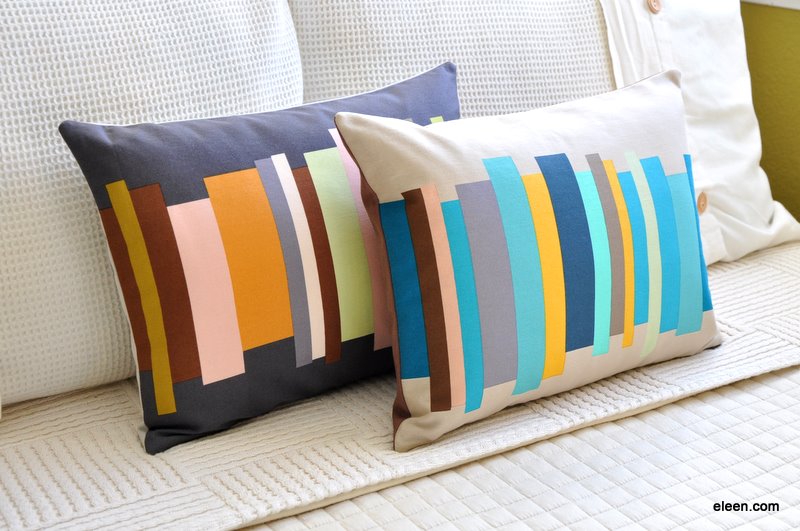 So you've picked yourself up a fabulous new pillow cover or two from the shop, and now you've gotta find the perfect insert. You could sew your own, but perhaps you want more instant gratification.
This post offers solutions for both the make and buy pillow insert (aka pillow form) options. Note: I don't currently sell pillow forms/inserts in my shop because not only would I have no room to stock the inventory, but it actually seems to make more sense to give buyers the option of choosing their own filling (polyester, bamboo, down feather, faux down, recycled) and size (the same size as the pillow cover or slightly larger for a firmer, more filled look). If you disagree and think you'd be more likely to buy if I also stocked the pillow forms, please let me know!
Make your own pillow form
How to Make a Basic Pillow Form tutorial on eHow is one of the best online tutorials, with photos, that I've seen. What's even better about making your own is that now you have a way to reuse those old t-shirts and sheets you might have lying around the house.
Before you shove that polyester fiberfill into your pillow, I also highly recommend following this video's tip on pulling your stuffing apart first to help de-clump it. This step "airs out" the filling and really helps avoid the lumpiness you sometimes get with handmade pillows.
Who has time to make anything? Where can I BUY a pillow form?
Here are a handful of suggestions. I buy my inserts from IKEA and Jo-Ann, but I'm also considering ordering from one of the last two places on my list for some additional size options that IKEA and Jo-Ann don't offer. For price comparisons between the shops, I've listed unit prices for polyester-filled 20×20″  pillow forms.
So now that you're armed with all this info on where to buy inserts of all shapes and sizes, go on and get yourself some fresh new pillow covers!
Similar Posts: