Home » Craft Fairs & Events
Feelin' the love at IndieSacramento
May 4, 2009 :: 6:43 pm ::
Craft Fairs & Events
::
2 comments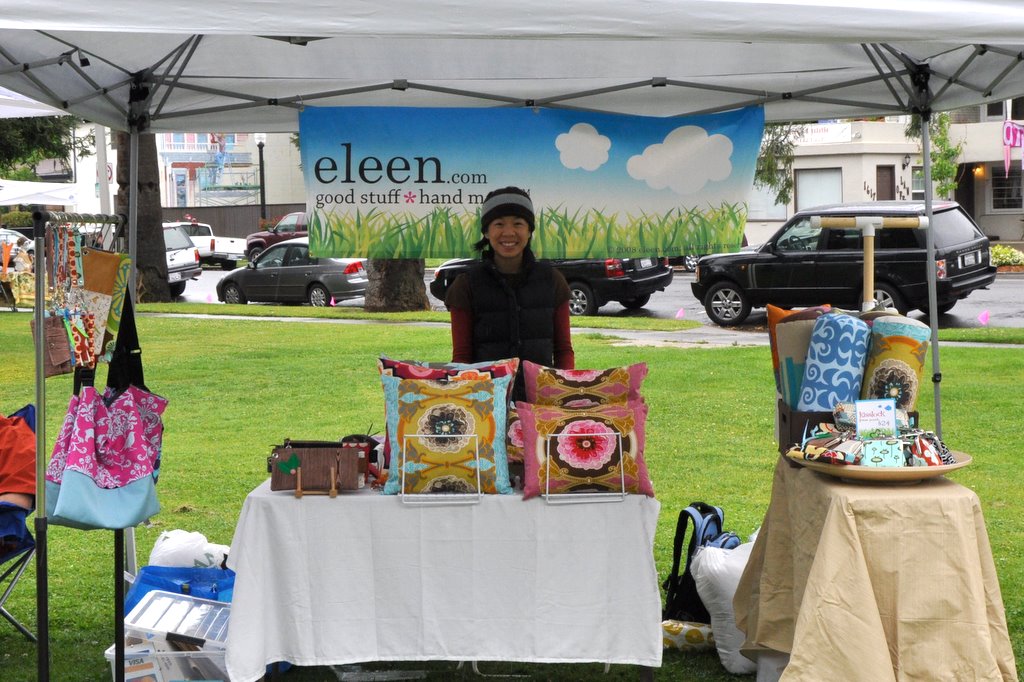 The hubs and I were delighted by the number of friendly Sacramento residents that came out to brave the cold weather and rain to shop IndieSacramento's May Market in Fremont Park! We had a great time meeting neighborhood folks, people from neighboring cities, park support staff and other vendors taking breaks to check out the scene. Given the wet weather, I didn't know if we'd get much foot traffic, much less any sales, so Jimmy and I were that much happier with each and every transaction!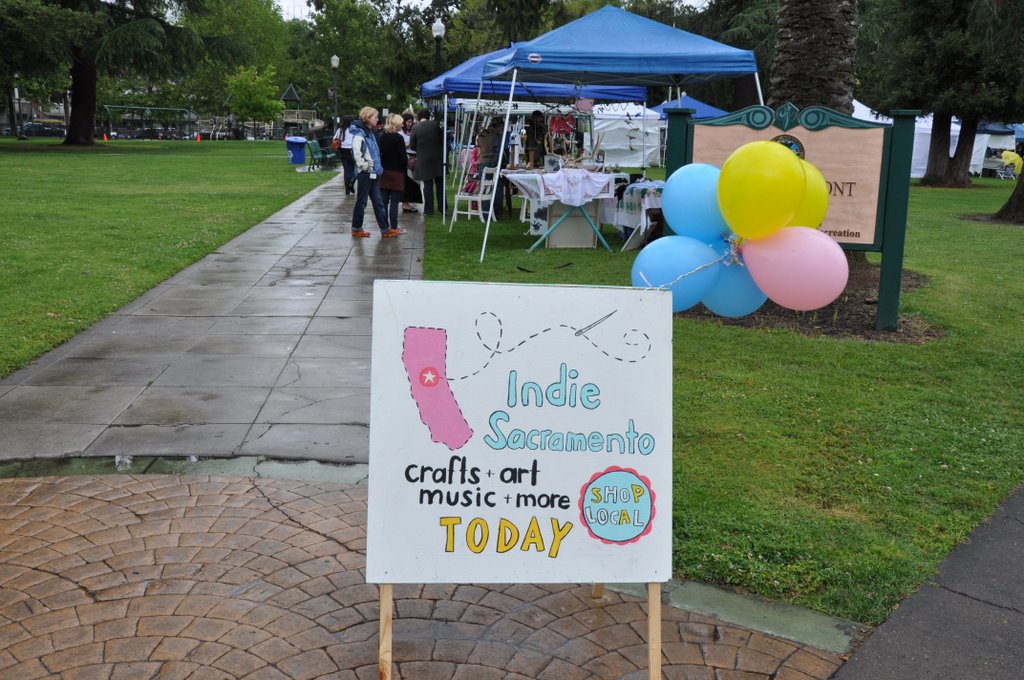 IndieSacramento was my first outdoor show and as we were getting the canopy up in the rain and then trying not to let my products fall over into wet grass, I thought to myself: never again. But then I thought, crap. I just blew over 100 bucks on this enormous 10×10′ canopy, which by the way is this one right here and worked out for us just fine in the light wind and rain:
I HAVE to do another outdoor show! At least a couple of them to spread the cost a little. But, once we got our setup in place and all my items fairly well-protected and on display, I relaxed a little. Then as people started showing up and coming into the booth, I started to get energized. And once I got to talking with customers and then that first transaction came through, I was like: this is awesome! When's the next one?! Heh heh heh.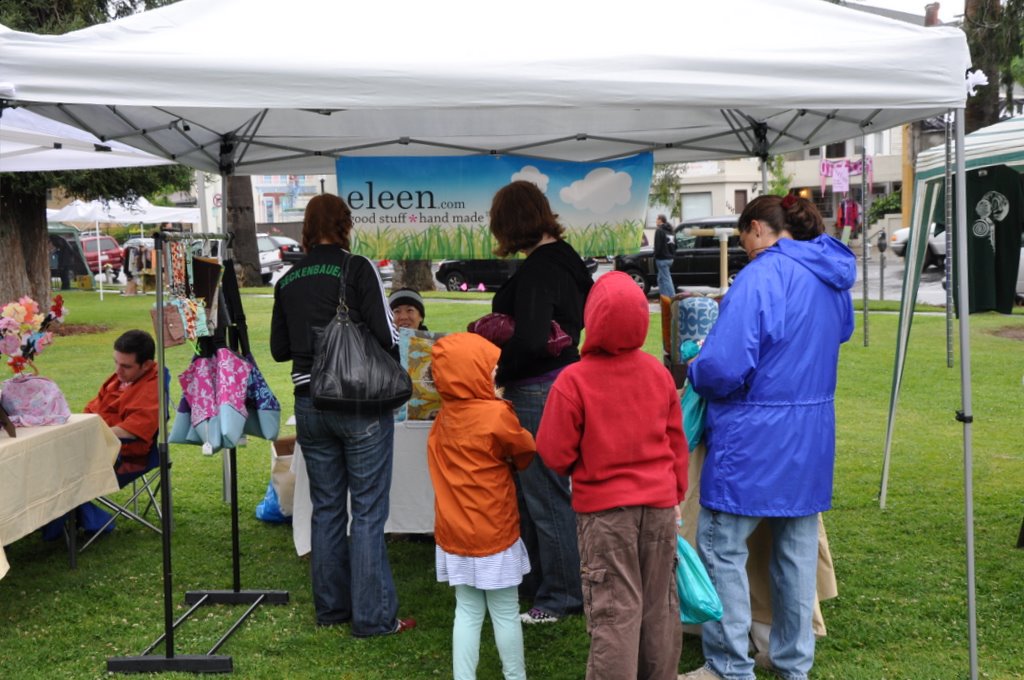 We were also lucky to have camped out next to a great couple selling adorable flower barrettes and headbands, and they helped make the time pass during the lulls in traffic.
As usual, Jimmy was so incredibly supportive and patient. He provided all the muscle for lugging my stuff to and from the car and doing the setup and breakdown; he picked up coffee, tea and lunch; he manned the booth when I had to go stretch my legs or check out the rest of the show; he made the 1h 40m drive to and fro and let me crash out on the way home; AND he bought me a bag of See's Candies to congratulate me on a job well done. All these things are more than I could ask for, but what I love the best is that he is ENTHUSIASTIC about it all! Seriously, he is the. best. EVER!!! Sigh and swoon…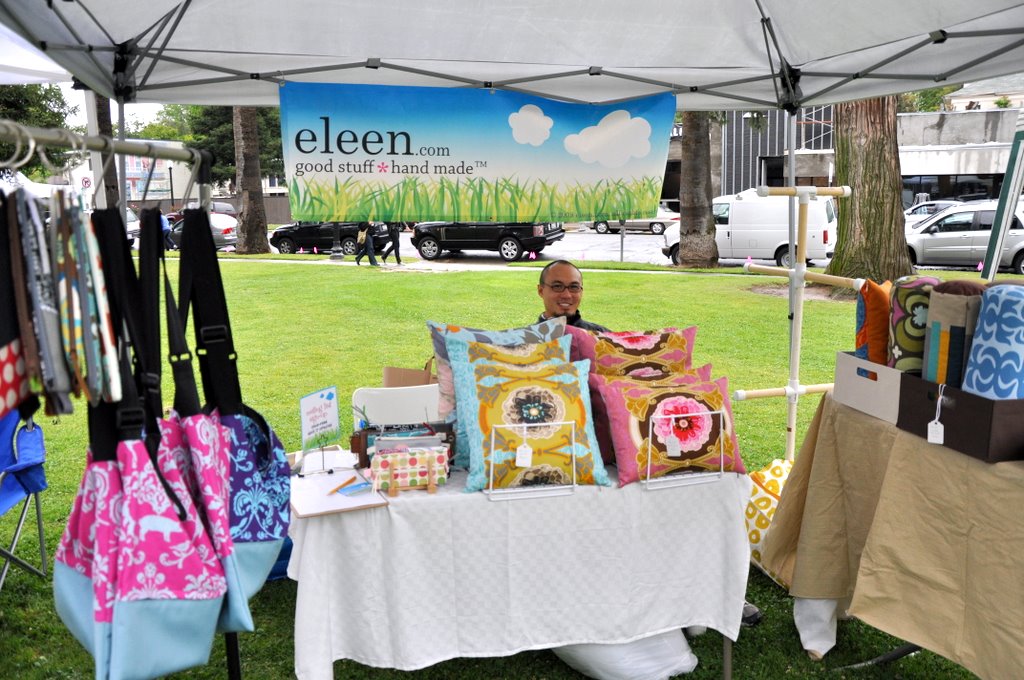 Of course, I made my own rounds of the fair towards the end of the day. I picked up an "asininely bitchin' tee" (that's their tagline) from Wear Yeti as my show souvenir. I haven't taken a photo of it yet, but it's a grass green shirt with a red design of birds carrying a bike on strings. I thought it was cool. I mean, bitchin'.
What I loved:
The organizers, Stacey of Bouton Blue and Amy of Peptogirl Industries, were friendly, helpful and supportive. I think they put on a great show in a great spot, and I'd consider applying for it again!
There must be something good going on with the Sacramento drinking water, because every last booth visitor I spoke to was SO friendly! Take Ruthie for example, who shot a photo of my booth and me for her awesome craft blog, Chubbycraft. I didn't even need my jacket because there was so much of the warm 'n fuzzies in the air!
The booth fee was really reasonable, and I liked the idea that part of the fee was that each vendor had to send in a quantity of swag for the swag bags that were handed out to the first 150 patrons.
What I learned:
Make a booth display backup plan! A small card table, a covered ironing board and a garment rack do NOT provide enough surface area in a 10×10 foot space when half of my products are pillows! IndieSacramento didn't provide tables as part of the booth fee and I didn't want to lug our giant 6-foot table up to Sacramento, so my booth setup included hanging some products off the perimeter of my canopy as well as a couple baskets of pillows on the floor. It would've been pretty cool actually (or so I think), but that plan got rained on, literally, and alas I had no backup.
All in all I had a great time and considered the show a success! Thanks to everyone who came out to look, and a special thanks to those of you who came out to buy! XOXOXOX!
More event photos:
Similar Posts: