Home » Being a Small Business, Craft Fairs & Events, Personal
So much happy!
May 14, 2009 :: 9:48 pm ::
Being a Small Business
,
Craft Fairs & Events
,
Personal
::
4 comments
I know that's not grammatically correct. But that's what I is! Sooooo much happy. Here are all the reasons I am happy today:
1) I had the honor of submitting a guest post to Etsy's blog, The Storque, and it went live today! And Etsy readers are so full of love and kind words. I love it! The Storque gets a whopping 2 million pageviews a month — that's a lot of eyeballs! So we're taking the liberty of feeling semi-famous…at least temporarily. Read on, if you please: "It Takes a Village to Craft a Handmade Wedding".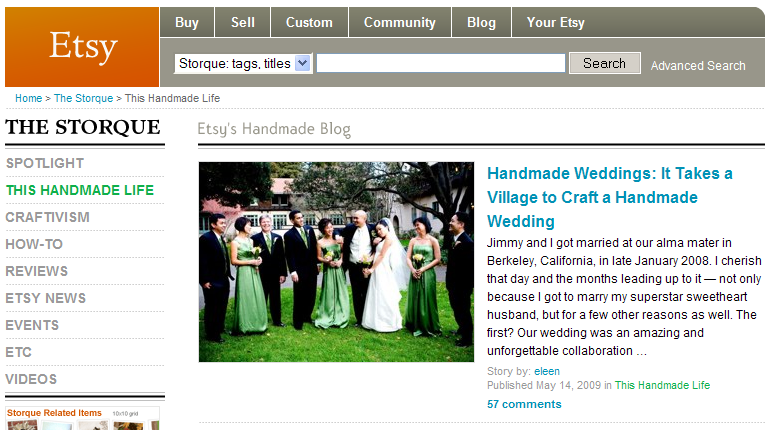 2) A lovely gal on Etsy sent me the sweetest note entitled "Spotted your bag in the wild". She said she saw a girl with a cute bag at Whole Foods in Oakland and asked where it was from, and it was mine! Awesome that that happened, and double-awesome that she went to the trouble to let me know about it. I am oozing with love and gratitude.
3) Our entire house is strewn with fabric and pouches and sewing implements because I'm preparing for the Bazaar Bizarre craft show at Maker Faire at the end of the month! I'm SO excited to get to be a part of the show this year, as I've always been in awe of Maker Faire. I'll admit I'm intimidated by the amount of people that are expected to be there (the number 80,000 has been floating around), but I'm much more psyched than scared!
4) Earlier this week, I found out that I also get to be a part of Renegade Craft Fair SF again this year – YEA! The event will take place July 18-19 from 11am – 7pm, at Fort Mason's Festival Pavilion. It was such a great event last year, and I'm sure it will be just as grand this year!

5) When it rains, it pours?! The folks over at Madison Marquette, which owns a bunch of shopping centers here in the Bay Area (amongst other places), are looking for an innovative new business to help them grow San Leandro's Bayfair Center mall and are running a contest called Retail*Star. The grand prize winner gets a FREE one-year lease on a retail space in the mall, plus a good chunk of seed money to get their business started. I was one of 66 contestants to submit my business idea to the panel of judges via a 3-minute presentation and 2-page written description, and I made the first cut as one of 15 semi-finalists!

6) There are a bunch more little mini things like the fact that I just had Henry's Hunan Hot & Sour Beef for dinner followed by a bite of dark chocolate. But I'll end with the fact that I just scanned in this photo that we had taken last weekend at a Mother's Day brunch at the Marriott, and it makes me smile. They caught Gramma in a blink, but that's not anything Don won't be able to fix in Photoshop I think. But it was just such a great family-filled whirlwind of a weekend, from pitching my Retail*Star thing Saturday morning and booking it over to SFO to get to Santa Monica Pier to celebrate Mom's 65th birthday then crashing at Ah-Yi's; to this all-you-can-eat-plus-complimentary-family-photo brunch, followed by more family time and then off again to LAX and back home in less than 48 hours. Phew! Though it was short, it was event-filled and somehow particularly fulfilling. This photo cracks and warms me up all at once.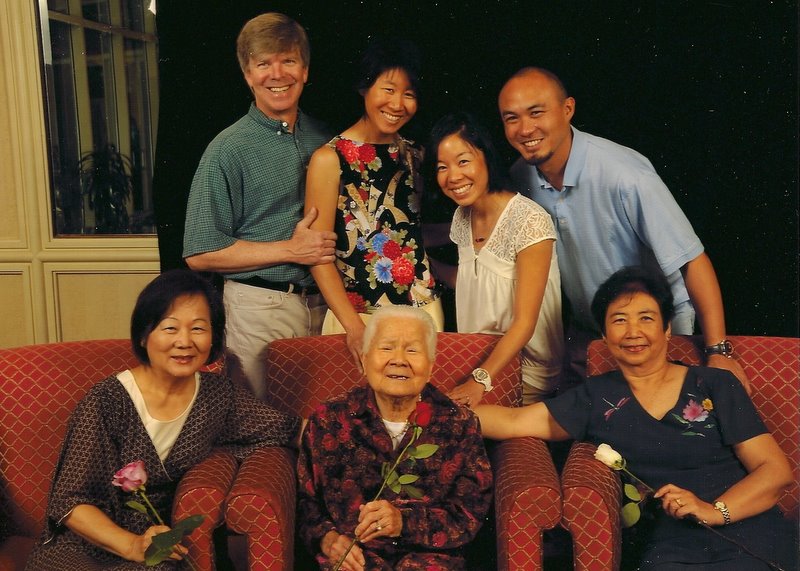 In conclusion, I have plenty of things to be happy about. And therefore I am!

Similar Posts: