Home » Craft Fairs & Events
Bazaar Bizarre / Maker Faire – all I imagined, and more!
June 2, 2009 :: 9:59 am ::
Craft Fairs & Events
::
64 comments
After all the excitement from preparing for and then tending my own booth as a Bazaar Bizarre craft vendor at Maker Faire this past weekend, I think I'm actually suffering from a little craft fair withdrawal! But more than anything, I'm just overwhelmingly happy with how everything turned out.
I barely stepped foot from behind my table the entire weekend, but even just from that vantage point alone I had a blast! I talked to so many cool people — shoppers, buyers, makers, passersby. I met at least five other vendors who will also be at Renegade Craft Fair SF this coming July and as always, I loved hearing all the real-time feedback from shoppers about my products.
The direct feedback is one thing that makes craft fairs so valuable, hearing what folks love and what they have questions about like, "What's this loop thingy here for?" The answer to which is, "It's a grab tab for you to hold onto when you open and close the zipper." To which they'd respond, "Oooooooh!" I've yet to decide whether that means I should remove it or simply label it as such, so if anyone's got an opinion on that, I'd love to hear it!
My favorite (and I've actually gotten this several times!) is:
Booth visitor: You made all this?
Me: Yes! (big smile)
Booth visitor: ALL this? (wide sweeping gesture)
Me: Uh huh, all of it!
Booth visitor: By yourself?!? (look of incredulity)
Me: Just me!
I figure others must get this line of questioning too because I've seen spreads that are even bigger than mine, but I love it each and every time!
Thank you, thank you, thank you!
To everyone that stopped by the booth, thank you so much!!! And to all who further lent your support with a purchase — HUGS, KISSES AND THANK YOU AGAIN!!!
Agnes from Teacake Bake Shop (you need to go there!) made it with her hubby and baby in tow, and she took home a whopping four Boxy Zippered Pencil Pouches!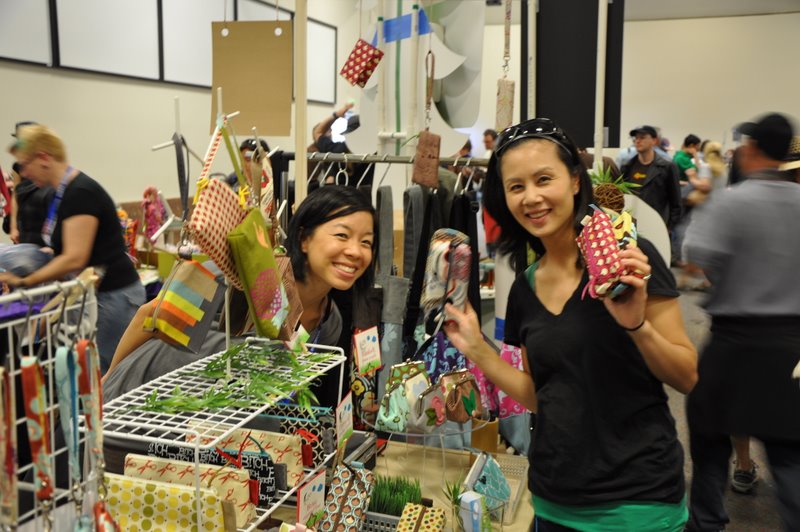 A quick product update
I introduced three new products at the fair and will begin posting them to the site over the next two weeks as I replenish my inventory. If you left me your contact info for something specific, I'll be in touch! If you didn't manage to sign up on any of my lists, please join me on Facebook! I'll send updates through Facebook as well as my email newsletter.
The booth setup
One of the many things I was really excited about was my new booth display! I brought my dressform again but this time I made her a necklace of Stash 'n Dash Zippered Wallets, adorned her with a leafy garland I'd purchased for our wedding but never used and topped her off with a twig ball also from the wedding!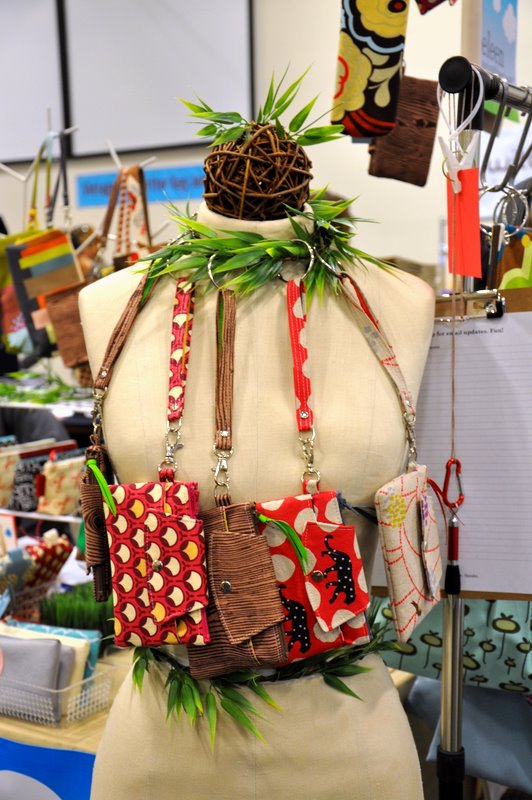 Ever the helping husband, Jimmy rigged me a big part of my DIY display — two vertical poles with a horizontal dowel inserted through each to allow me to dangle a sampling of products from overhead. Here he is hard at work: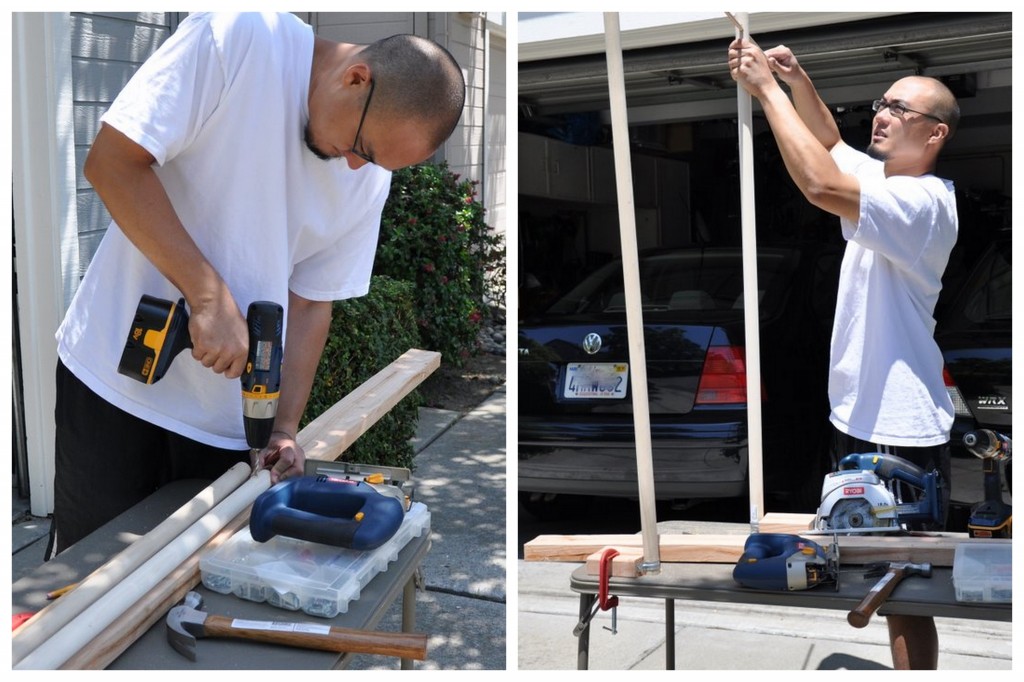 And the display in action!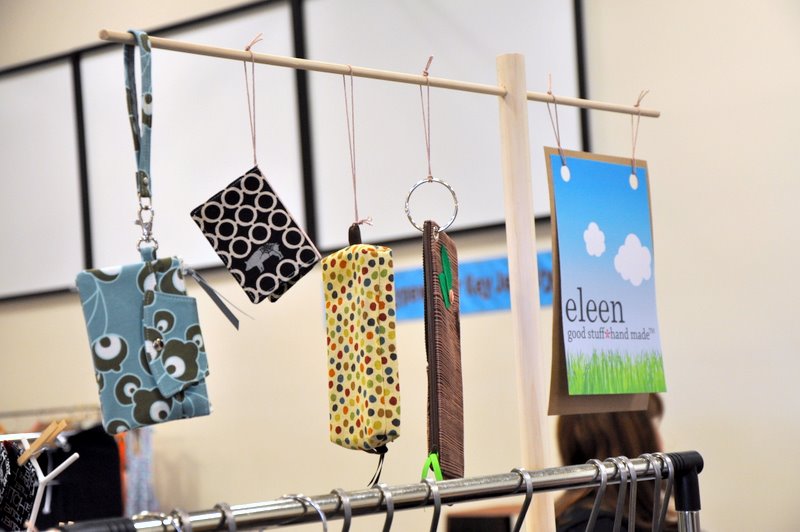 A view from the other side: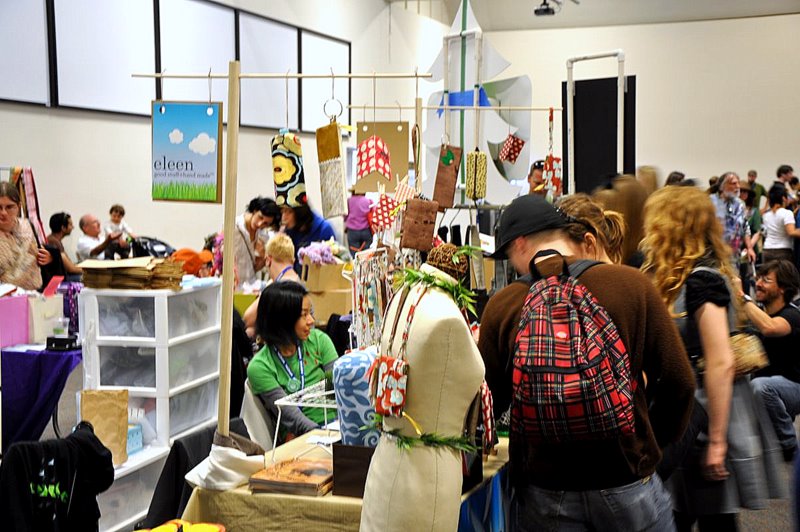 I think it worked out well in such a crowded environment, but next time I'd like to give it some more oomph somehow. I'm sure I'll figure something out in time for Renegade!
And all the rest…
The hubs took some time to enjoy the festivities, and here are some of the things he found photo-worthy. Lots of FIRE! And of course corn dogs and funnel cakes, both of which we made sure to sample.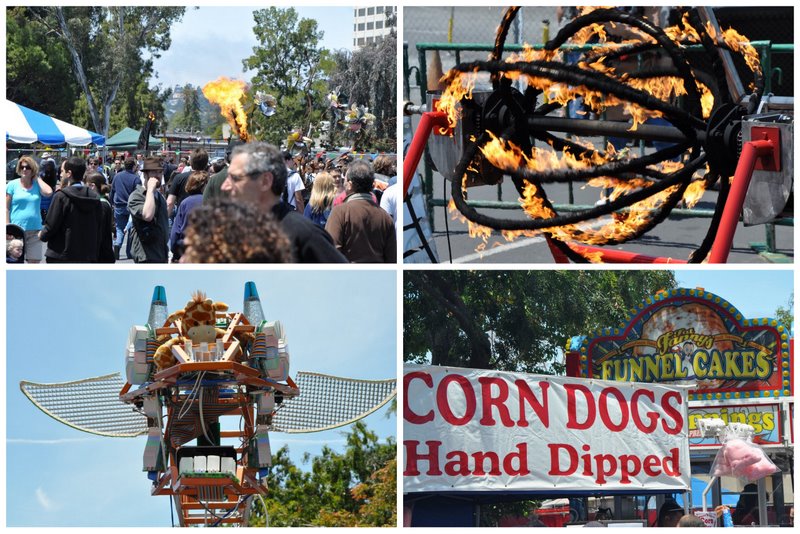 Before I get back to sewing, I leave you with a special collage that doesn't have much to do with the show but is what Jimmy proceeded to do immediately after building me my little display solution. It may seem like just a row of flowers, but oh, it is so much more. I'm sure it's what led the Lakers to finally beat the Nuggets, for it is none other than a purple and gold tribute to Jimmy's favorite team…right in our front walkway. Great.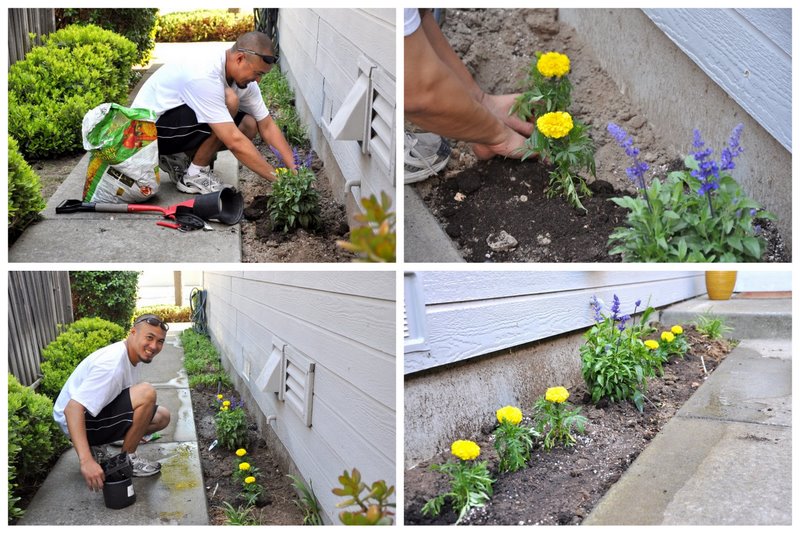 A few more photos
Similar Posts: