Home » Being a Small Business, Craft Fairs & Events
Blessings to the Bartizan 4200 portable imprinter
June 11, 2009 :: 9:26 am ::
Being a Small Business
,
Craft Fairs & Events
::
35 comments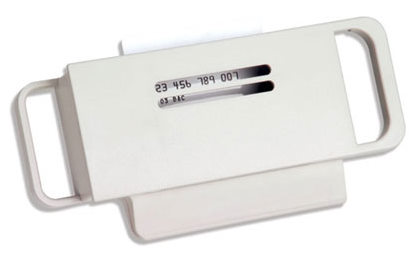 image from Addressograph
I got this little guy in time for Bazaar Bizarre / Maker Faire, and I love it soooo much more than the Bartizan 4850 tabletop imprinter I used to have! Not only is the Bartizan 4200 more compact and therefore easier to pack, it's just way easier to make a credit card imprint with too.
The old tabletop version took up valuable table space, and I'd often have trouble getting the credit card info to come out clearly. Jimmy was better at it, but I didn't want to deal with the hassle at Maker Faire because I knew there'd be loads of people and very little space in our 6×6 foot booth.
So I went back to Mr. Imprinter's eBay store and picked up this listing for myself, which includes the imprinter and a pack of 100 credit card slips for $26.50 shipped. A couple of things to note: The slips that are shipped with this listing are the longer 80-column sales slips, but the unit also takes the shorter 51-column size. I sent Mr. Imprinter an email to ask before I ordered but never got a response back. Wah.
 
images from Mr. Imprinter
Also, the listing says that this unit doesn't take merchant plates but in fact it does. It's "set up for use with a 3 line embossed plate of .014 – .016 over material height" (this is from the manufacturer's website, and you can also see that there's a place to insert a merchant plate inside the unit). I guess Mr. Imprinter just doesn't sell that type of plate, but you can get it separately from Addressograph (I'd check with them to make sure that's the right one!). Merchant plates, if you're not familiar, are these customizable metal plates that are mounted on the inside of an imprinter so that your store/contact information are imprinted on sales slips along with the customer's information.
Here's Mr. Imprinter's: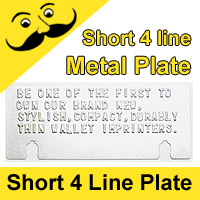 There were a couple of things that were not so great but only one specific to the product itself. For the price and in comparison to the 4850, I'm a huge fan.
Pros:
The compact size  (1.75″h x 4.125″w x 7.75″l) is lightweight (0.61 lbs) and easy to store and transport.
You don't have to sit the unit on a flat surface to get an imprint.
Produces a clean imprint with one swift pull of the lid.
Cons
If you slide the credit card in too far on accident, it gets stuck and is hard to pull back out.
Merchant plate can't be ordered from Mr. Imprinter but is available from Addressograph. I just ordered a rubber stamp from Simon's Stamps and got help from my dear friend Jenn to stamp my shop info on all the sales slips. Heh heh.
I think the shorter sales slips would be easier to manage inside this unit than the longer ones that are shipped from Mr. Imprinter.
And that's my imprinter recommendation for the day!

Similar Posts: