Home » DIY and Craft Tutorials
Peachy patterns for purty projects
July 1, 2009 :: 9:05 pm ::
DIY and Craft Tutorials
::
1 comment
Anna gave me a gift certificate to fabric-printing company Spoonflower awhile back, and I've been hoarding it while trying to come up with just the right fabric design. But how's I gonna do that?! So every now and then I hit the web to browse for some design inspiration, and in the past couple of weeks I've hit the jackpot twice!
The other day I came across this sweet looking book Drip.Dot.Swirl. by illustrative designer Von Glitschka, via a Craftzine book giveaway.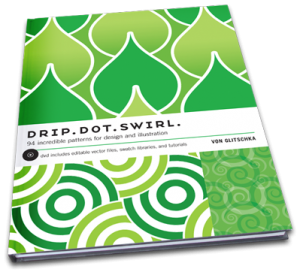 I tried to win the book but alas, no such luck! Phoo. So onto the Amazon wishlist it goes, because a) I love the title and b) it looks sooooo chock full of drool-worthy designs. Plus, PLUS! the book comes with a DVD containing all the vector patterns (in three color themes each!) that you can customize in Adobe CS2 or higher as you so please. How ya like that?!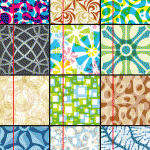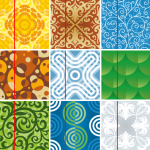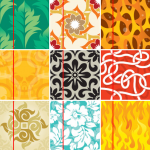 images from Art Backwash
The author offers some freebie teaser downloads that you can test drive:
"Beautiful" from his book site, Vonsterbooks.com (in the Drip.Dot.Swirl. column under "FREE Pattern Download")
"Memory Lock" from his blog, Art Backwash
And then TODAY while I was searching for Drip.Dot.Swirl for this post, I found Wallpaper Projects by San Francisco's own Lauren Smith and Derek Fagerstrom! This sweet-looking bundle of pages boasts, as the subtitle says, more than 50 craft ideas for your home, from accents to art. And while it features wallpaper as the material, I'm thinking a little Mod Podge + fabric would work just as well! Maybe?!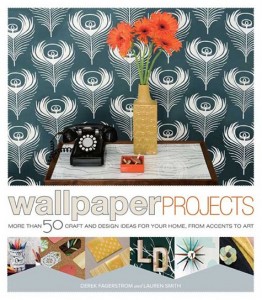 I can't believe I didn't know about the book before but now I do, and yup — hellooooo, wishlist!!! Sheesh, still almost six more months til Christmas. Can I even wait that long?! Perhaps not. So I best get on it and sell more pouches y pillows, people!!!

Similar Posts: