Home » Being a Small Business, DIY and Craft Tutorials
Add custom tabs to your Facebook Business Page
August 28, 2009 :: 11:53 am ::
Being a Small Business
,
DIY and Craft Tutorials
::
62 comments
Wall, Info, Photos, Discussions, Boxes. Those default tabs on Facebook Business Pages are great, but oh so limiting don't you think? Sure, you want all your standard business info on your fan page. But what about that special content, like "where else you can go to buy my supercoolawesome stuff"?!
Right, because I recently started working with a few local retailers and am SO excited about it that I've wanted to spread the word everywhere: on my blog, on Twitter and of course on Facebook, to name a few! So I added a Retailers page to my blog, updated my Profile in my Etsy shop, tweeted it out and made a few Facebook status updates about the news. And this week, I added a new tab on my fan page called "Where to Buy"!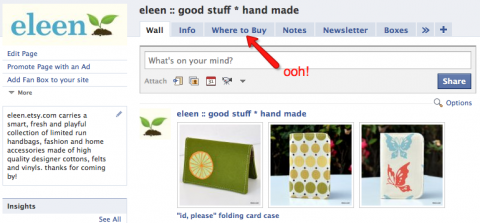 Here's a tutorial on how you too can add a custom tab to your very own fan page!
You'll need:
A Facebook Business Page (aka fan page) of your own

If you don't yet have a fan page, see my previous post entitled Promote your Etsy shop on Facebook for assistance or try one of the many other fine tutorials that have been written since!

Some very basic HTML knowledge…or simply the ability to copy other people's HTML code!
Ready?
1) Add the Static FBML application to your page
Go to the Static FBML application page and click "Add to my Page".

Tell Facebook which of your fan pages you want to add the Static FBML app to. Click Add to Page. Then click the Close button.

2) Go back to your fan page and open the newly added Static FBML application
I usually access my fan page either through a bookmark that I've added to my browser, or through a shortcut I've created on my Facebook profile page. Below is a screenshot of the latter.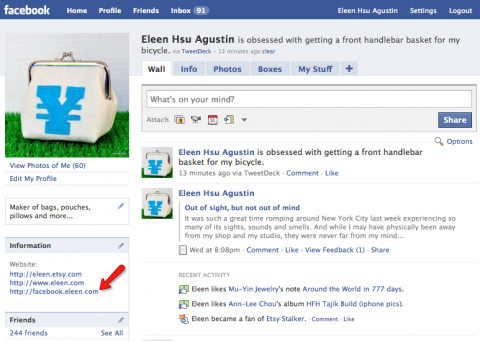 Once you're on your fan page, click Edit Page.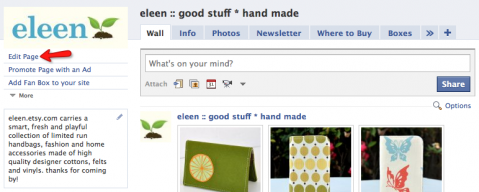 You'll see a list of editable stuff for your page. Scroll to the Applications section. (1) Click on the pencil icon to display the edit menu and (2) Click the Edit link.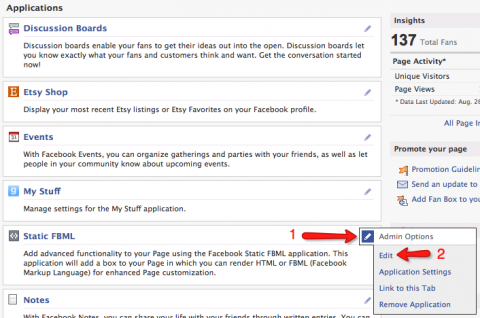 3) Create content for your new tab
Clicking the Edit link above will take you to a simple form page where you can edit (1) the title of your tab and (2) the content to be displayed in your tab. You'll notice that I've used some really basic HTML tags in the FBML box in order to format how my content is displayed. If you don't know any HTML, you could just enter plain text but everything will just show up as, well, plain text and in a single paragraph — no line breaks, no bullets, nada.
When you're done, click (3) Save Changes.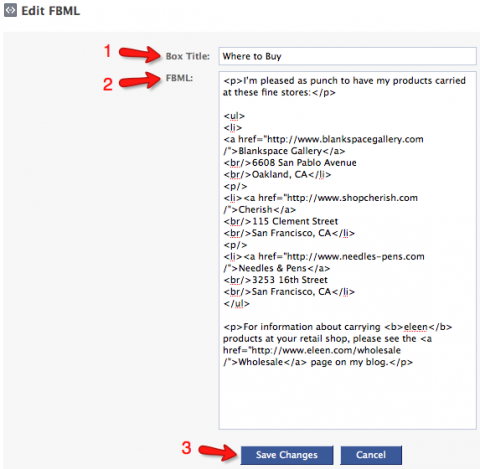 Facebook will confirm that your changes are saved. Then, click on the name of your fan page to return to its front page.

4) Tell Facebook to display your new tab, dammit
When you get back to your fan page, you'll see that your new tab is…nowhere to be found. WHAT?! Not to worry. Click on (1) the + icon to add a new tab, and (2) select your newly created tab — in this case, "Where to Buy".

You should now see something like this, where your new tab is displayed, content and all, alongside all your other tabs: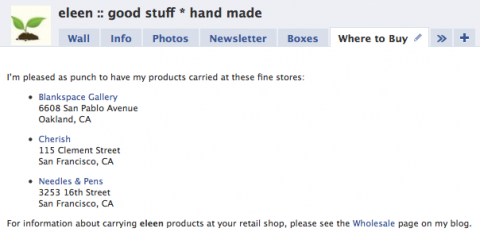 You did it! You did it! Jump up and down, call your mother, tell your friends and holla at ya fans! Your new tab is in town!
Addendum:
Waaaaaait a quick second. Say you come back to your page the next day and WTH?! Your new tab is M-I-S-S-I-N-G. Freak out! No no, don't do that. This just means that your other tabs have momentarily crowded it out. Just click on (1) the double arrow >> icon, and (2) select your previously "missing" tab. Note that you can shuffle the order of your tabs around just by clicking on the tab you want to move and drag it to your desired position, holding your mouse button down while you do this. Hooraaaay, happiness returns.

Feeling fancy?
To take it to the next level, or for more ideas and information, try these helpful articles:
I hope this was helpful! If you have any other tips to share, I'd love to hear your inside scoop!

Similar Posts: