Home » Being a Small Business
Want a Big Fat Check? Try Ebates. For reals.
September 14, 2009 :: 9:02 am ::
Being a Small Business
::
19 comments
I've been telling my friends about Ebates since I first signed up in 2006, and having just received yet another cash back check from them in the mail, I thought I'd spread the word about them again!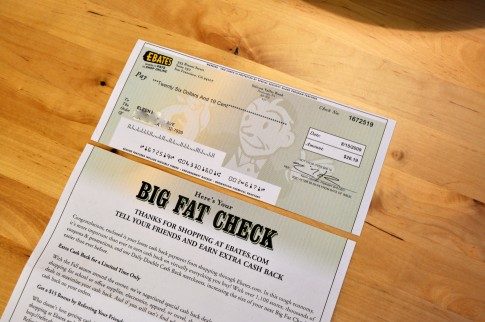 What is Ebates? Ebates is a website that helps you earn up to 25% (but usually more like 4-6%) cash back when you shop from any of their participating online retailers. All you have to do is sign up for an account (preferably through the link I keep providing so that you'll oh-so-kindly help me earn a $5 referral fee if you do =), then begin your shopping session from their site.
So let's say I decide I'm going to order some photo prints from Shutterfly.com, which I do every now and then. I know that Shutterfly is one of the companies that partners with Ebates and that I'll get a whopping 10% in cash back if I just 1) go to Ebates.com, 2) sift through their drop-down menu of stores or go straight to my Favorite Stores list (below), and 3) click on the Shutterfly link from there.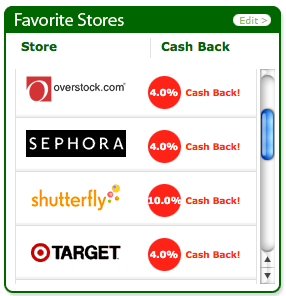 Clicking on Shutterfly from Ebates simply opens a new window in which the Shutterfly site loads, and when I place my Shutterfly order from it as usual, my order is assigned an Ebates tracking ticket and my account gets credited for the appropriate amount of cash back. If I spend 20 bucks on my order, I get 2 bucks back! Okay so it's not a HUGE amount of money, but in my opinion it's a really small effort on my part to occasionally get a few bucks back here and there. And now that I'm a full-time small business owner, every penny counts!
Is it safe? I've been a member for a few years and have never had any problems with them. All I do is make sure I go through them when I shop, and every 3 months they send me a check. For me, it's a no-brainer. But, they also have an A+ rating from the Better Business Bureau. Plus, according to their website:
The company was founded in 1998 by two Deputy District Attorneys in Silicon Valley who used to prosecute online fraud & identity theft before starting Ebates (so you can be sure we are very into secure online transactions!)…Joining Ebates is always free – you'll never pay us anything…
And this is how it works:
People often ask: "This sounds too good to be true, how are you able to do it?" It really is quite simple. Just like almost every other online shopping center, we get a commission from the stores when you make a purchase. Instead of keeping that money – like almost all other sites do – we share it with you!
I showed an excerpt of the participating stores that I have marked as favorites, but here's my full list. They don't have EVERYONE I shop with, but they have enough to make it worth it.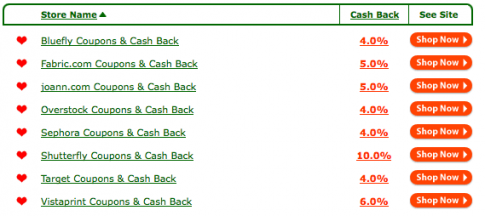 So decide for yourself but me, I'm gonna go deposit my $26.19 check!

Similar Posts: