Home » Being a Small Business
Introducing…Modern Mouse!
October 22, 2009 :: 10:35 pm ::
Being a Small Business
::
4 comments
All's been a bit quiet on the home front over here lately, but it's only because I've had some crazy exciting fun in the works! Ya see, the thing is…I'M OPENING SHOP! I'M OPENING SHOP! EEK!!!
Yup it's true. I hardly know where to start, but luckily this has all really only been brewing for…the past 17 days, if you count today. And if you count from the day I actually made my final decision to open up shop, then that narrows it down to 11 days. And heck if you count from the day that I signed the lease and got the keys placed in the palm of my hand…it's been less than 36 hours! So there's not that far back to go!
Alright already, what am I talking about here? Well in just 18 more days, I'll be opening the doors to what I hope will be an exciting and energetic space in Alameda, California for people to come and discover the wares of more than 30 amazing, talented and fun designers from right here in the San Francisco Bay Area to across the country (and one in Japan)! The shop has been dubbed Modern Mouse, and it's a temporary retail venture — i.e. a pop-up store! — which means you've gotta come by as soon as it opens and then as often as you can! We open our doors the 2nd week of November 2009 and invite each and every one of you to our grand opening celebration on Saturday Nov 14th!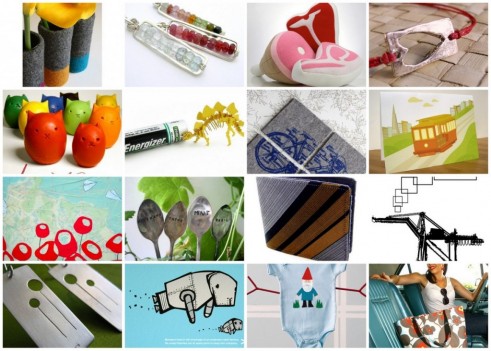 We'll have goods ranging from hand felted vases (Papaver Vert, Alameda, CA) to screen printed wool coasters (Girls Can Tell, Philadelphia, PA); t-bone steak plush toys (Sweet Meats, San Francisco, CA) to handmade soldered map pendants (XO Handworks, Osseo, MN); quilted Japanese-style lunch bags (Yokomono Studio, Berkeley, CA) to build-your-own miniature dinosaurs (Tinysaurs, Brooklyn, NY); and asian pear-scented handmade body lotion (mi SPA, Alameda, CA) to wire-wrapped gemstone jewelry (Mu-Yin Jewelry, Charleston, SC). That's just to name a few! And of course I'll carry a selection of my own line of bags, purses and pillows too. :]
I'll get into it more over the next few days. I have so much to say about what's already been a crazy cool whirlwind of a ride and I'm just spilling with excitement (and nervous energy!) about this incredible opportunity. But in the meantime, you can read more about Modern Mouse on our new website.
If you're wondering about my Etsy shop, it'll be on a short break until Modern Mouse is up and running like a well-oiled machine. Since we've only got until January 15th to make that happen, we hope that time comes 'round real soon. :] But sign up for any of my lists, or just follow me on Twitter, to stay on top of all the updates!
YAY!!!!!

Similar Posts: